A mellow Saturday
Last Saturday I met up with Cable, Max and Mike in our local area and headed down to the park for a quiet spot to practise balance. We hid our bags in a tree and headed to a pond-side rail. It was a wooden beam about a foot and a half high, over 100m long with a path on one side and nettles, thorns, rough ground, pond water and various wildlife on the other. It's a great rail to practise on because you can't go more than 10 step
s without the rails changing direction,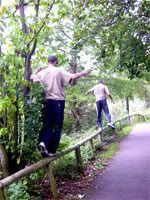 height, becoming wobbly
, slanting or having
to go over, under or round overhang
ing shrubbery. At one point you have to leap
into a tree climb round it then swing back to the rail. We made it challenging for max by always keeping on his heels and trying to distract him but this in turn meant we would
often have to stop suddenly an
d hang back while he dealt with the off-puts. We got to the end and we're ha
ppy to move on, but Cable kept bugging us to do it again in reverse. For once Mi
ke was glad to be sitting out.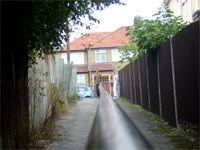 Once everyone had limbered up we convinced Cable to get off the rail by enticing him wi
th an even more challenging one. This was a bloody über rail: L
ong, high, sloping, bent and slippery, a right bastard of a rail! Now
I
've been working on my balance a lot
recently but this really was a
challenge. Cable happily shot off along the
rail while I couldn't make it more than a few metres. Max just tackled the challenge of
getting
onto
a rail just under chest height without anything to help balance. After about 30 minutes
or so despite balancing a lot further, I had begun to dislike the rail that kept maliciously chucking me off. Cable of course balanced the
whole thing, but nobody saw, so it don't count hahaha
.
So like big kids we headed to
the playground. It's amazing how much time passes when working on seemingly small obstacles. But it's often the small things that allow you to really understand how your body works and where
you need to build strength. It also allows you to work on the more complex and technical side of Parkour tha
t I love. We ended up spending the rest of the day there. All in all a small but essential day of practise for everyone.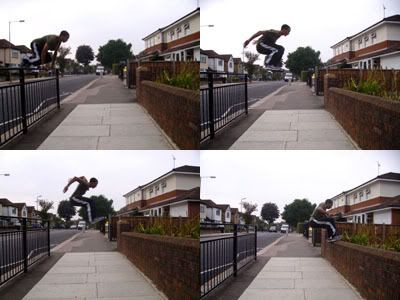 Anyway, that was last Saturday!
Blake