Parkour Coaching with the Yamakasi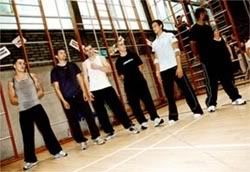 It all kicked off on Sunday the 13th May in Kilburn at St Augustine's School, with the Parkour Coaching Seminar Hosted by Forrest, Dan and Stephane. It was the first time we've been able to jump on a bus straight from Edgware to practise with some of the top traceurs from France and the UK. On the way to the event, we met up with a good friend of ours, Thomas who was strolling along with Dan, Stephane, Kazuma, Laurent, Yann and also Seb Goudot and Cisco who we hadn't seen since our adventure to Lisses. When we arrived at the school we we're surrounded by familiar faces including The TCT, Blane, DC, The Brads from WWJ, Jason, Liv, and Bachelerius.
The day was packed with conditioning and drills which judging by everyones faces and the volume of sweat on the floor, was as killer for everyone as it was for us. Some of the highlights of the day were: Bobby and Kazuma sliding backwards while doing the splits under a gym horse, which was well fuckin cool; the circuit which consisted of underbars through the various levels of apparatus which we hadn't used since school days. Having some one on one coaching from Yann Hnautra and getting some insight into how he and the others train was really inspiring, but it was clear that they we're more accustomed to outdoor training, as Seb said there are limits to indoor practise.
The cool down at the end was tougher than the warm up, which gave us a sneaky suspicion that Forrest and Dan were intent on pushing everyone to their limits. All in all a brilliant day, well worth the bus fare lol.
Thanks to
Parkour Coaching Ltd
for setting it all up, and thanks to DC for the heads up. For a full wite up on the day
click here
.