Saiyan Students
At the beginning of the summer, SaiyanClan gave into demand and started teaching small classes
to beginner tracers around the local area of
North London
. A group of potential tracers, "free
runners",
and fad chasers showed up to our open days, however the flips,
kicks and general
attitude did them no favours and the group was
quickly cut down. The ones remaining were then put through a series
of test,
both men
tal and physical to determine who had what it takes,
and to let them know what to expect for the summer that ahead.
These ranged from dealing with heights to endurance training. The results left us with 5 young dudes all with a respectful view of le Parkour and an understanding of what
it would take to become tracer. The 5 that survived had shown determination,
courage, focus and most importantly, passion. These kids are in love with Parkour. When most of their friends conjoined to a ps2 pad, they
a
re out practising every chance that they get.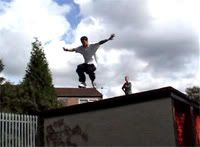 Often they would fall but seldom would t
hey complain, instead learning from their mistakes and qu
oting Belle's "The best thing about falling down is getting back up again!"
All five guys levels are improving by the day but like most of us, still have a long way to go... watch this space!

Introducing: