Parkour Infiltrating Mainstream Society!!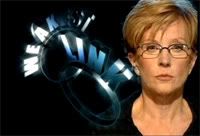 The red headed tyrant of prime time tv, Anne Robinson, almost made me choke on my afternoon tea and biscuits by asking a question I thought I'd never hear, and had me jumping and screaming at my tv:

Q: The French extreme sport Free running, founded by David Belle, which consists of jumping across rooftops, is more commonly known as what: Park Life or Parkour?
The woman then asked if it could be repeated and then answered Park Life. hahaha

Cable...