HAPPY BIRTHDAY!!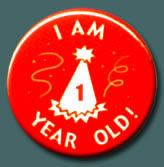 It was a year ago today that we decided to set up this quaint little blog we call the SaiyanGarden. It was our good friend Dale who encouraged us to get a blog saying "Think, in a year from now you can look back and so how far you have come." But its been more than that, its allowed us to keep up with Mogli's events in Austria, and its given us a place to have a moan without it being moderated. Its also meant we have kept in touch with all our good traceur friends around the country and the world and kept us just about visible on the parkour radar. lol
Anyway hopefully this next year we'll post a little more. If anyone wants to see what we've been ranting on about this year past; it's all there in the archives.
Hopefully see everyone soon
Blake
ps: Hi again to all the people we met at the Trace Gathering, if we didn't trade numbers there drop us a message and we'll hook up and practise.
Peace SaiyanClan